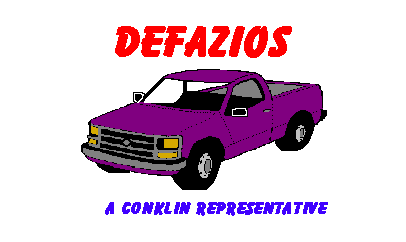 We carry Conklin Fastrack Probiotic Microbial Supplement Products, Dog, Cat, Exotic, Animal Health Products, 960 colors of int./ext. Paints, Convoy Parasynthetic Truck and Car Oil, Lubrications, Gas and Diesel Fuel Conditioners, Concentrated Cleaning Products, Mox, Sanox II, Lifetrack Vitamins & Supplements, Personal Health and Weight Management Products,, Plant and Lawn Fertilizers, Agricultural Products, Conklin Metal Roof Coating Systems, Home Roofing System and MORE!
DEFAZIOS is an Independent Business in Bangor, Maine.


DEFAZIOS is dedicated to promoting the well being of People, Animals, and the Enviroment thru the use of CONKLIN products.

DEFAZIOS can have these products

DELIVERED TO YOUR DOOR

for YOUR convience!

SECURE online Ordering!

We do not deliver to Canada.

The only way to order products, for the moment, is to become a "Preferred Customer" for $25.00 and place an order for $50.00 or more.

You will automatically get 20% off your order.

The on line application link is below.

Click here for On line "Preferred Customer" Application

Enter 04401 in zip code to continue!

These links below Do work to new Conklin Site for products and prices!

Conklin Lawn and Garden Products

Become a Conklin Preferred Customer!

Now you can order and have the best Health, Home, Vehicle, Animal and Cleaning products delivered to your door and SAVE 20% off the retail price!

Are you next?

Retail = $135.60




Preferred = $95.70

Fastrack® Canine Microbial Supplement™

The nutrient needs and digestive action of dogs change with their life cycles and activities.

Provide your dog Fastrack Canine Microbial Supplement that contains lactic acid-producing

bacteria, live yeast, dried chicory root, and enzymes on a daily basis.

Retail = $26.50




Preferred = $20.20

Fastrack - Microbial Pack

for

Exotics, Sheep,Dairy, Cattle,Elk and Hogs

Encourage peak performance by using Microbial Pack with animals already on feed. Microbial Pack provides beneficial microorganisms, yeast culture, enzymes and FOS (fructooligosaccharides) to help maintain a healthy digestive tract. FOS feeds the most beneficial, health-promoting bacteria in the small and large intestines.

Only available in USA.

Click on pictures for SECURE online ordering!

Testimonials

888-814-4596

866-850-5455

Click on the graphic to vote for this
page as a Starting Point Hot Site.





Fastrack - Probiotics for your animals

America's #1 Probiotic
Feeds, Pastes, and Gels

Promotes shiny coats, hard nails
More energy and resistance to disease

Improves the appearance and performance
In 6 weeks!

Horses, Beef and Dairy, Dogs and Cats,
Hogs, Poultry, Deer and Elk, and Exotics, too!

Put your Animals on the FASTRACK program!

Have You Saved Money Yet?
Have you switched your horse to the new Fastrack® Equine Microbial & Enzyme Pack? What are you waiting for? This upgraded product is ultra-concentrated, allowing you to feed half as much, reducing the daily cost on this superior product. In addition, the reduced package size provides savings on shiping too!

Suggested Use:

Growing: 1/4 to 1 ounce

Maintenance: 1/2 ounce

Active/training: 1/2 to 1 ounce

Lactating: 1/2 to 1 ounce


Shipping days for overnight option: Monday, Tuesday, Wednesday, Thursday. No Fastrack® Gel products will be shipped on a Friday or over any holiday.

Product Disclaimer: Perishable and must be stored in a cool dry place not to exceed 75 degrees Fahrenheit.

Shipping Disclaimer: Conklin® Fastrack Gel products must be shipped overnight delivery to ensure best quality and microbial viability. The customer will be responsible for ALL shipping charges.

Replacement Disclaimer: Conklin will no longer replace Fastrack Gel products damaged due to heat during shipment via means other than overnight delivery.

Fastrack products are non-returnable.

Introduction to Fastrack Products Video

NEW and Improved

4# Bag




Retail = $54.50




Preferred = $42.00

Fastrack

Equine Microbial and Enzyme Pack

This improved formula contains a concentrated form of yeast
metabolites, nutrient digestive enzymes, lactic acid-producing
bacteria and prebiotics. When fed at the daily recommended
amount your horse receives the nutritional support that may
lead to the benefits listed above.
Available in both a 4 lb. and 12 lb. bag.

Retail = $22.70




Preferred = $13.90

Fastrack

Feline Microbial

Supplement

Feline Microbial Supplement provides ingredients to help your cat's digestive tract, overall health and appearance. The beneficial bacteria, live yeast cells, FOS and enzymes help to promote and maintain a healthy digestive tract, increase food utilization and improve hair coat. Supplement over wet or dry food daily.

Protect your animals!

Use Sanox II to kill Mold, Mildew, Viruses and Bacteria.



Click for prices!

Kills germs and fights mold on contact
Sanox II disinfectant-deodorizer kills illness-causing germs and bacteria, preventing cross-infection. Hospital-strength formula disinfects hard, non-porous surfaces in bathrooms, kitchens and laundries. Sanox II also sanitizes litter boxes, kennels, diaper pails, and garbage cans, and fights mold, mildew and fungus in damp or humid areas. One pint of Sanox II makes eight gallons of disinfectant. Translucent, adjustable-spray nozzle bottle features graduated measuring scale.

*Now Available in California !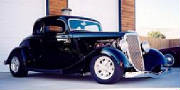 PENN racing teams of Wayne Pennington #71 and Tim Crawley #87 are having a great racing year.
Wayne and Tim feel the improved performance from
Conklin Lubricants
gives them an advantage over other race teams.
Wayne and Tim use Convoy 20W50 parasynthetic motor oil, Gold Guard Plus gear lubricant, Rhino grease, Dike tempoary radiator stop leak, Safe radiator conditioner, Luboil multi-purpose lubricant, Power Mate and Wash N' Wax in their race cars.
"It's not often you can go through an entire season without an engine breakdown. We raced the entire season with two cars running on Convoy motor oil and had no engine breakdowns!"
-Wayne Pennington
Bangor
The complete online guide to the Bangor area, with accommodation, real estate, business and local information
DEFAZIOS * P.O. BOX 812 * BREWER, MAINE * 04412