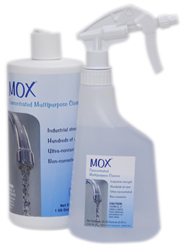 Mox® Concentrated Multipurpose Cleaner
Concentrate Your Cleaning Efforts
From greasy kitchen appliances to grimy bathroom surfaces, Mox handles it all, replacing multiple competitive brands. Powerful, biodegradable formula lifts crayon, lipstick, grease and tough beverage stains without harsh bleaches or solvents. Mix two ounces of Mox with 20 ounces of water (1:10 ratio) for all-purpose cleaning. Increase Mox proportion for heavier-duty cleaning. Translucent, adjustable-spray nozzle bottle features graduated measuring scale.


Click on pictures for SECURE on line ordering!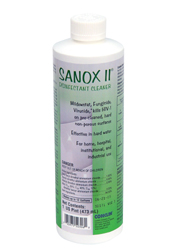 Sanox II Goes Head to Head with MSRA Infections
You've most likely heard and seen recent news that drug-resistant staph infections are on the rise, especially in schools. "The spread of Methicillin-resistant Staphylococcus Aureus (MRSA) infections is preventable through rigorous hygiene and cleanliness," says Betsy McCaughey, Ph.D., chairman of the New York City-based Committee to Reduce Infection Deaths (RID). Conklin's
Sanox II® Disinfectant Cleaner
can help. MRSA is one of the many infectious bacteria that Sanox II eliminates. Use Sanox II to disinfect hard, non-pourous surfaces such as floors, walls and tables.
Disinfection Instructions
In schools, industry and non-medical institutions use 1¼ ounces of Sanox II per gallon of water (approx. 1:100 dilution). Treated surfaces must remain wet for 10 minutes (always read and follow label instructions

If you can not click through to order, Please call:
We can take your order over the phone.
Sorry for the inconvience.


*** NEW for 2013 ***
Become a Conklin Preferred Customer!
Now y
ou can order and have the best Health, Home, Vehicle, Animal and Cleaning products delivered to your door and
SAVE 20%
off the retail price!
Are you next?

Clean N' Simple
2 oz. Sample box
This is great for the traveling person.
Whether in the car, vacationing, college students or camping, this sample pack is for you!